Feber 800007510
Quad elettrico un posto, acceleratore a pedale, freno motore, velocità massima 2km/h. Caricabatterie incluso
Specifiche:
AttivitàAutoveicoli, Tricicli e TrattoriLineaMotoBrandFeberNon adatto aEtà inferiore 36 mesiA partire daiDa 12 a 36 mesiNormative sicurezzaMax 25 kgSolo uso domesticoInterno ed esternoCodice articolo800007510AssortitoNoColli1Dimensione scatola62 x 43 x 33 cmPeso5999MaterialeCompositoAssemblaggioDa assemblarePezzi1BatterieSi, (incluso)Motore elettricoSiObiettivo educativoAgilità e Cognizione SpazialeNumero giocatoriDa 1DescrizioneQuad elettrico un posto, acceleratore a pedale, freno motore, velocità massima 2km/h. Caricabatterie inclusoIstruzioniInclusoMarchioFeberGaranziaDel produttoreNotaIl produttore si riserva il diritto di apportare modifiche, che non pregiudichino la qualità del prodotto, in qualsiasi momento e senza preavviso a colori, materiali, specifiche, modelli e packaging
Quad elettrico
Acceleratore a pedale
Freno motore
Resistente e sicuro
Servizio assistenza ricambi

Confronta su Amazon
Ultimo aggiornamento il Febbraio 12, 2020 5:08 pm
Confronta su Ebay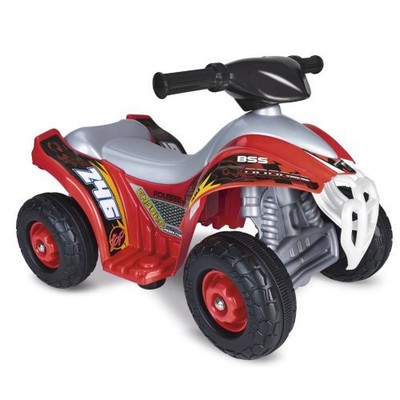 Ebay.it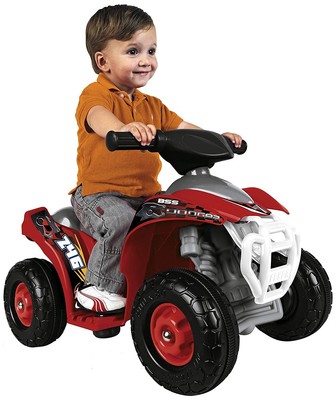 Ebay.it
Video
Famosa 800007510 Dodger Quad Elettrico
http://www.amazon.it/gp/product/B00H1JV0PM?tag=zonahobbybrow-21.
Quad Dodgers
He dodged it.
Quad enfant électrique Feber brutale 12v to 24v (12V+12V)
Modification du quad enfant Feber electrique 12v en 24v (12v+6v puis 12v+12v.)
Kid Trax CAT Bulldozer - Kids Tractor (Unboxing and Riding)!
Gabe and Garrett unbox, assemble, ride, and review the Kid Trax CAT Bulldozer! Younger kids will love this 12v ride-on bulldozer tractor and it comes with a ...
Stunt in Quad
Stant in Quad.